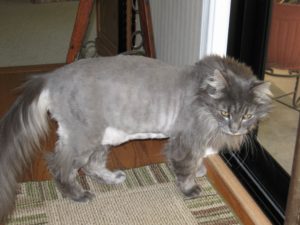 Cats are cats, it's true. But sometimes we treat them like a human baby or child or even a counterpart. We shave them, dress them up, put colored claw protectors on them, feed them from our plate, place a chair at the dinner table for the cat, talk to her, and certainly bring her presents.
You celebrate her birthday—sometimes inviting in friends and serving tuna cake. You respond to her mews and meows, ask her questions, and follow her instructions (to let her in or out, feed her, arrange yourself so she can get up on your lap, let her curl up on your lap even though you have other things to do). Does any of this sound familiar? I even let Lily lick a little cooked egg yolk from a spoon before I eat my breakfast. It's one of our little rituals. No, I don't use the same spoon!!!
Going back to shaving a cat, some people do this each year in order to keep the cat cool or to get rid of mats in her fur. Here are a couple of links discussing whether shaving a cat is a good idea or not: http://www.catster.com/lifestyle/how-to-shave-your-cat-at-home-dont-persian-cats-lion-cut
http://cattime.com/cat-facts/lifestyle/1870-should-i-shave-my-cat-to-keep-her-cool
As for dressing your cat, that's up to you and the cat—most cats won't tolerate it, but some will wear dresses, tutus, hats, and even eye glasses. I'm in Houston this week at the Cat Writers Conference where some of the members bring their cats and dress them each day. Sometimes they have a parade of pets for which the owners and pets will dress. I promise to bring back photos to share in this blog as well as stories of signing books at a cat show and at a cat café.