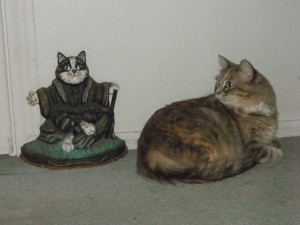 You may be wondering where we've been. It has been ages since I've shared a picture or I've posted a note at this blogsite. I post daily at http://www.matilijapress.com/publishingblog But don't get over here to share stories of the cats very often.
Here's a picture of Lily with one of her household friends. Lily is 2 and a half now and she has decided to become a decorator. She loves to drag out her toys and place them all around the house for everyone to enjoy. She usually does the decorating at night–so, when we get up, we have new obstacles to navigate throughout the house. Sometimes she brings a toy to me here in my office and drops it at my feet. A couple of days ago, I found one of my teddy bears face down in the cats' water dish. What was that all about?
Some experts say that when cats bring you their toys, they are in essence trying to teach you to hunt. The theory is that the cat thinks of her toys as her prey. I wonder if Lily considers her toys her kittens and she is bringing them out to play, teaching them to eat and drink. There is usually a toy mouse or some other toy lying next to the kibbles bowls.
The iron cat statue is not one of Lily's toys. We use it as a guard to keep her from out of the broom closet. She likes to chew on broom bristles and we figure that can't be good.
Sales for Catscapades, True Cat Stories is up this year. It may be too late to order one for holiday giving, unless you live nearby and I can hand deliver you a few copies. Let me know here: PLFry620@yahoo.com. Or you could wait until after the holidays and order a copy using your holiday gift money. Place your order at Amazon.com or here: http://www.matilijapress.com/catscapades.html