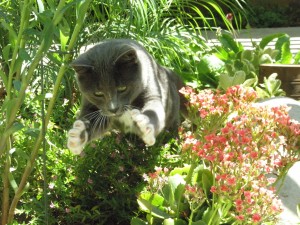 I learned this morning that this photo I took of my mother's cat, Smokey, won the People's Choice Award in our Ventura County Fair photography exhibit.
The judges bypassed it, but fair goers sure liked it. It is rather spectacular. But I can't take credit for it. All I did was press the shutter release button. Smokey is the one who created this great action shot by leaping into the frame.
Photography and cats sure go together, don't they? I have hundreds of pictures of my cats, but you don't get one like this very often.