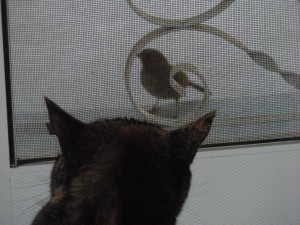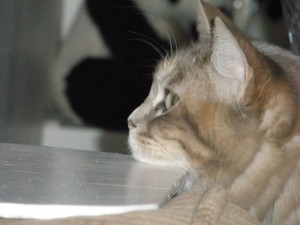 When I started this blog, I thought I would post here often. However, while my kitties, Max, Sophie and sweet Lily, take priority over practically everything else, my primary work is related to publishing and book promotion. Thus, my publishing blog gets more of my attention than this one and my publishing books get priority over Catscapades, True Cat Tales.
The kitties are doing great. Max turned thirteen this spring. Lily is two. And Sophie will be seven in August. They are healthy (at the moment) and happy. Lily is busy learning new tricks, such as finally finding her way onto the kitchen counter. I've laid a piece of foil in her path in an attempt to deter her. Not sure this is foiling her, though. Someone is messing with the little blue bottles I have lined up on the window sill above the sink from time to time. I haven't caught anyone doing this, but I often find some of the bottles slightly askew.
I've been doing some knitting and Lily has enjoyed helping with that. We bought the 4-year-old granddaughter a doll house and Lily loves moving around the perfectly placed furniture inside it when Alyzay isn't looking.
The orioles are visiting the feeders now and the cats spend part of their day watching them through the window. We can tell when it is a hummingbird at the feeder and when it is an oriole by the demeanor of Sophie and Lily. The girls express much more interest in the colorful orioles.
This year, a pair of tohees are tending babies in a nest in a bush close to the house and they spent several weeks entertaining the cats from the porch as a way of deterring them from knowing where the nest is. While one bird would dance up close to the cats as they watched through the screen door, chirping and distracting them, we assume the other one would be feeding baby birds just around the corner.
To learn more about Sophie, Lily and Max (all with unusual and interesting backstories), read Catscapades, True Cat Tales. http://www.matilijapress.com/catscapades.html