Sarah Ann Taylor is our guest blogger today. She's here to remind us of the many dangers to our pets this time of year. I imagine most of you have stories of accidents or near accidents occurring during the holidays involving your cat or dog. Sarah can help prevent some of them. Please visit her link. You might be surprised to learn of some of the potential hazards in your home this time of year.
"Season's Greetings! Christmas is just around the corner, and the cascade of glistening snowflakes is just enough to remind that 'tis the season! However, this is also a time for pet parents, old and new, to consider safety measures for their pets. Christmas can go awfully wrong for some pet owners.
Many end up visiting a veterinarian because a piece of decoration got stuck in the pet's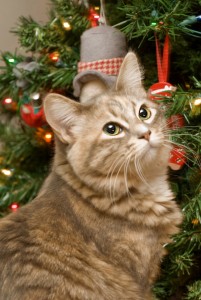 throat, a broken glass decoration piece cut through the pet's paws, or a pet got an electric shock while playing with the lightings. Cats especially love climbing trees, and it is very likely she might climb the Christmas tree inside the house. If the tree is not anchored properly the tree can come crashing down and your cat can get hurt.
Also gifting a pet for Christmas is a bad idea unless you are very sure that the person can take up the responsibility. Considering the fact that many people do not want pets in their house, some people are dog-lovers while others love cats. If you gift a kitten to a dog lover, you are only making it worse for both the pet and the owner. Taking care of a pet is as big a responsibility as taking care of a child, and you have to be extra careful during festive seasons. Learn more about the safety precaution tips for pet owners during Christmas. Take a look at the infographic from   "https://topdogtips.com/dog-christmas-safety-tips/