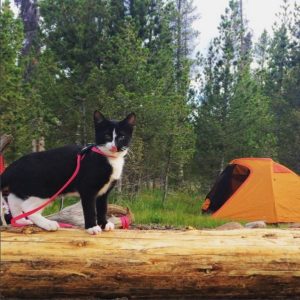 This is a guest post from Kaylin Stinski at Pet Wellness Advisor (http://www.petwellnessadvisor.com). I hope you enjoy it. The photos came from Kristi Davis at Pet Wellness Advisor.
Yes it is true, you can go adventuring with your cat! Cats have been mostly considered to be housebound animals, but some cats are more adventurous and are becoming companions during adventures in the wilderness. Some of these adventures include hiking, camping, and even canoeing! The most important thing is to make sure that your cat is trained for the adventure.
This means that they are not only comfortable wearing a harness but they are also comfortable and familiar walking in a harness that is attached to a leash. Make sure that your cat is up to date on all their vaccines and preventative measures such as flea and tick prevention. Also make sure that your cat is micro chipped and wearing a collar with tags, just in case they get lost, someone will be able to track them back to you.
Start small, get them accustomed to their harness in the house, take it on and off often,
and once that seems easy, go on a walk around the back yard, and then eventually down the street. Once your cat seems comfortable consider taking them to a local park and then work your way up to a trail. Don't forget to bring all the essentials you would need for yourself as well as your feline friend.
If your feline friend has become a pro at hiking, can hit the trails with no problems, maybe rests in your pack on those longer hikes, and is basically now the king of the forest, the next step is to take the adventure overnight! The same rules apply, start small, set your tent up in your living room, then the backyard, and then eventually on your overnight adventure. The woods are calling!
By Kaylin Stinski. "Throughout my life I have always been very passionate about animals and have worked in the veterinary medicine field for the last ten years. Outside of working directly with the animals, I really enjoy educating clients on the overall care of their pets; not only form a medical perspective, but also discussing general concerns such as behavioral interventions and preventative care."