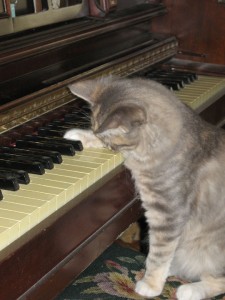 Are you one of the over 73 million people who have seen Cats the musical? I had the opportunity to see it in Santa Barbara, California. What a thrill. I thought you might like to know something about the back-story to this amazing hit show—where everyone on stage dresses as cats.
It's taken from T.S. Elliot's Old Possum's Book of Practical Cats, a book of poetry for children written in 1939. Andrew Lloyd Webber remembered his mother reading the poems to him at bedtime and, as an adult, wondered how those poems would adapt to music.
It was a rough road to stardom for Cats, but in 1981, Webber's musical premiered at the New London Theater and the rest, as they say, is history. It's one of the longest-running musicals in Broadway history and, if you plan to be in New York, you can see it again at the Neil Simon Theater this summer-fall.
For more interesting background information about Cats, news, and more, here's the website: http://www.catsthemusical.com
Have you ever thought about the various movies and songs featuring cats? A friend once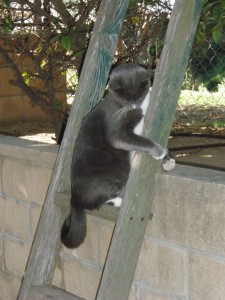 gave me a CD of songs he put together related to cats. It included the Pink Panther theme song, "I am Siamese," "Kitten on the Keys," "What's new Pussycat," "I Taut I Thaw a Puddy Tat," and others. He didn't include "Memory," one of the most famous songs from Cats.
What movies do you recall where a cat starred or had a role? Many movie and cartoon cats were "the bad guy," or were owned by a bad guy. How about the cat in From Russia With Love, who was always being stroked by the evil guy? John Wayne had a cat in True Grit. Remember General Sterling Price? And there are cartoon cats, Garfield, Tom (of Tom and Jerry), and The Cat in the Hat. And cats have also starred in movies. Who didn't love Lion King and The Aristocats? Homeward Bound was one of my faves. I'd watch it again and again. And we can't forget That Darn Cat. What cat stars do you remember? Do you stop to watch commercials with cats in them? I'll bet you recall Morris. I saw him once at a cat show–well, it was one of the several Morris's they used in the commercials. I enjoy seeing the white Persian they show in that marker pen commercial. And that cute orange kitten in the litter commercial. "Mom, doesn't know we have him…." Yeah right!
Would your cat be a good actor? What role could he/she play? What tricks would she do?