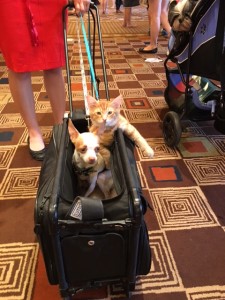 Boston launched its first ever Caturday last week. Evidently, the concept isn't unique. There are other cities where cat people bring their cats to a local park for a change of scenery and pace. And where cat-aficionados gather to admire, play with, and pet the cats.
People bring their cats on leashes as well as in buggies, strollers, carriers, their arms. Some cats arrive wearing hats, capes, or exquisite collars. One cat owner said, "I just want her to have a good time." And it appears that the event was a success as many of the participants plan to continue celebrating Caturday each first Saturday of the month.
There's a similar activity for cats in San Francisco designed to "reclaim the glory of the outdoors for your feline friends."
In July this year, they held a version of Caturday at the Carnegie Museum of Art in
Pittsburgh. People arrived in droves to meet adoptable kittens and cats, get a cattoo, and learn to draw a cat, for example.
Let me know if you've taken your cat to an event of any sort—other than an impromptu gathering of cats, dogs, reptiles, etc., in the reception area of your veterinarian's office.
While there are sociable cats who might take this sort of outing in their stride, I don't think I'd subject our Lily or Sophie to a Caturday in the park. Our family Christmas gathering of soon-to-be 29 people in our home, is disrupting enough for them.