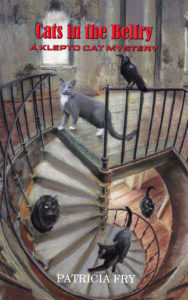 What's happening in the office? As usual, it's a busy place. Not busy with people in and out, unless you count visits from my grandchildren and great-grandchildren, but I'm busy creating, organizing, planning, and, of course, promoting.
Klepto Cat Mystery, Book 24—Cats in the Belfry—is available in print and for your Kindle. Read the first five reviews—ALL 5-star reviews—and place your order here: https://www.amazon.com/Cats-Belfry-Klepto-Mystery-Book ebook/dp/B0741862MT/ref=sr_1_21?s=books&ie=UTF8&qid=1500728038&sr=1-21&keywords=klepto+cat+mysteries  This book is a bit of a thriller. If you enjoyed Mansion of Meows, I think you'll love Cats in the Belfry.
Books One, Two, and Three (Catnapped, Cat-Eye Witness, and Sleight of Paw) have been revised (cleaned up, refined). And Book One (Catnapped) is the first book in the series to be published (or I should say, recorded) as an audio book. Be sure to get your copy for that long road trip you're planning this summer or fall. Order it here: https://www.amazon.com/gp/product/B00DAHFS1G/ref=series_rw_dp_sw
Book 25 is in the works and a complex and complicated piece of work it is at this point. I'm
enjoying the challenge of bringing you more exciting, more intriguing, more enticing stories—the kind that you can't put down. I'm often told that my stories create cravings—readers crave more—they want the next book as soon as they finish reading the first one. And many Klepto Cat Mystery fans, when they discover this series, read the entire series one right after the other.
If you love Rags and his friends and the stories created around them, tell your friends. Show your copies to your local librarian and ask if they'd like to have them in their collection. If you have copies you want to dispose of, leave them in a senior center, doctor's office, or other waiting room where they'll get exposure. And I always appreciate it when you leave a review at Amazon. If you've never done that before? It's easy. Just go to the particular book page at amazon.com, scroll down, and click on "Write a Customer Review."
Thank you for your interest. I love my fans!!!