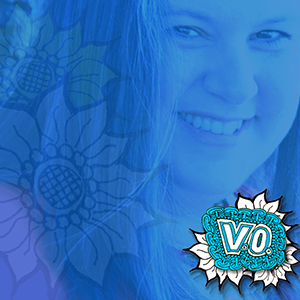 Yesterday, we heard from Dena Dahilig, the woman who "voiced" the characters in the first Klepto Cat Mysteries to go audible. Today, Dena talks about some of her techniques for voicing a variety of characters and how she pulls the recording all together. Here she talks about the Aunt Margaret character:
What do we know about her?  
She's Savannah's aunt (her mother's sister), 57-years old, broken foot, needs glasses to read, loves cats, passionate about cat rescue, volunteers at Max's shelter, might have a thing for Max, often exaggerates to make a point ("a wild boar"!!) or get her way, impulsive, community-oriented, danger-excitement
What adjectives does the author use to describe her?  playful, spunky, capable, courageous, "curvy"
How does she describe her: "I'm not an invalid, you know!" "I would have done OK by myself this whole time"
But is she: "foolish, self-centered, stubborn"? If not, why does she describe herself that way?
So what does Margaret sound like? Does she remind me of anyone? (Yes! My dear friend Anne!) Can I pull in any of Anne's vocal qualities for Margaret? Oh, yes. Much of Margaret's vocal exuberance is based on Anne's infectious laugh, and on the pure joie de vivre I hear in each wild story she tells. So the connection I feel for Margaret as a character is driven by her familiarity.
All of these elements inform the voicing of Margaret, and, by extension, all other characters.
Creating and Completing
Once all of the prep work is done, it's time to record! I typically record only as much as I can completely edit per day. Some people record a whole book first, then go back to edit, but that seems so daunting! I like checking items off my lists (thank you David Allen and GTD ), so smaller, bite-sized chunks give me daily completions… and a good night's sleep.
One of the most challenging criteria for producing audiobooks is being word-perfect. In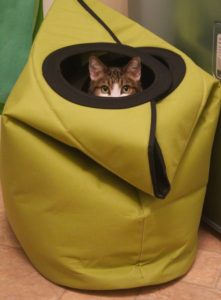 the same way that I was taught as an actor to never alter a playwright's words, the necessity for accuracy in audiobooks was trained into me as a volunteer reader for the Braille Institute. It's always best to have a second set of eyes follow along, and this process has reminded me that it's a necessity, not a luxury!
Once recording, editing and quality control are all finished, I send my edited files off for mastering. For Catnapped I used the awesome people at Deyan Audio in Tarzana, CA to create the final ready-for-amazon files.
Wrangling the Feline
It's very rewarding to have lived with these characters in their world for so many days. Thanks to Patricia and Catnapped I learned an awful lot about cat rescues and cat-lovers, and I even got to record my own cat, Stanley. What you hear of him in the book is about 1% of what I recorded… the other 99% is the sound of him decidedly not meowing, but instead, purring and rubbing his head on the microphone… which he also drooled all over. If you need to know what a drooling cat sounds like, I'm your gal.
Dena Dahilig is a voice actor in Los Angeles, California. http://www.denadahilig.com