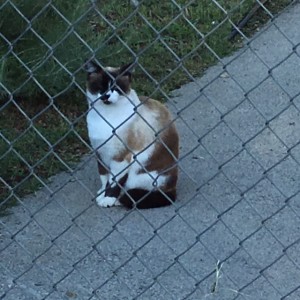 Unfortunately it has become necessary for individuals and organizations and even informal groups to gather and intervene on behalf of cats. There are thousands of such agencies. Yet, there are still far too many cats without homes, comfort, love, and protection. I heard one professional say that cats on the streets live an average of eighteen months.
Despite the fact that there are thousands of organizations just in the US designed to help these cats, and  there are still many who are falling through the cracks—way too many. And people can do only so much. How do you provide a safe haven for cats that are too frightened to enjoy it or even tolerate it?
In my Klepto Cat Mysteries, I sometimes address the feral cat situation. I've created one
solution for feral cats in one area—a wealthy woman with a heart for cats has a large enclosure where feral cats with no hope of becoming comfortable in a home environment can live out their lives in relative safety. Of course, they participate in a spay/neuter program as well. Certainly there are similar provisions here in the US and elsewhere. But still not enough.
While there are reported to be 86 million pet cats in the US, there are still estimated to be 50 million who are homeless. This is a problem—too many cats are suffering. And the problem is world-wide. There's a small island in Japan where the human population is 22 and the cat population is 120.
If you dare—check out this site where you'll be shocked at statistics involving cats—some of them good and some not so good. http://catingtonpost.com/animal-overpopulation-shocking-facts-and-figures/