The Huffington Post loves cats and I love to peruse their site in search of interesting cat news stories for you. Here's a rundown on some stories they're running right now.
Read about the veterinarian in Dublin who's advertising for professional cat cuddlers. What a fun job that would be. But he only wants people with "cattitude."
How would you like to work or volunteer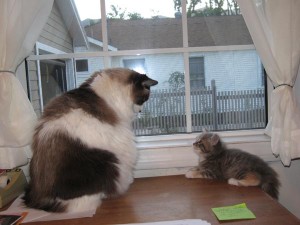 at a kitten nursery? In San Diego, the Humane Society has opened one—in fact it's open 24-hours part of the year—and they hire 20 staff members to feed and love on the kittens and around 200 volunteers.
In Japan, there's a company that pays employees to adopt cats—yes, they actually pay the equivalent of $45/month. And they even allow—maybe encourage—employees to bring their cats to work. At present, there are about 9 cats wandering and lounging around with the staff every day.
There's the story of the little black cat who was nowhere to be found after a house fire. Two months later, the family dog—a good friend of the cat—drew the family's attention to a sound in the floorboards of the damaged home and there they found their beloved cat—malnourished, but alive.
In Charlotte, NC, a family gave their cat quite a party when she turned 15. They made it a Quinceanera. Dressed in a designer dress and wearing a crown, Luna was the star of probably the biggest party ever thrown for a cat.
Read these stories and more here: http://www.huffingtonpost.com/topic/cats