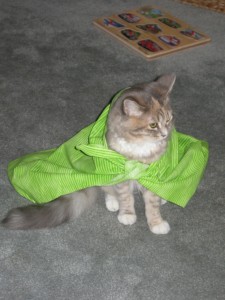 I'm sure that I smile more often throughout the day when there's a cat around. I love having the company of one or more cats. Just last night, we were laughing out loud at Sophie's and Lily's antics as they played hide-and-seek, leap frog, and chase.
I love it when Lily gets an itch and runs to me for a scratch. No kidding. She'll lay down flat in front of me so I can ease her itch with a rubber kitty grooming brush.
I smile every morning and evening as Lily leads me in our rising and bedtime rituals. And I'm sure you can relate. As if you don't get enough joy from your own cat, here's a facebook page called, Cats Make Me Happy. Watch a man and a cat share a croissant and a cat giving her owner a massage. It made me chuckle. So cute. https://www.facebook.com/CatsMakeMeHapppy
The Huffington Post editors also seem to love cats and often run something about them. Here's one I enjoyed featuring happiness secrets that only cat owners understand. Wayyyyy cute. http://www.huffingtonpost.com/entry/happiness-secrets-only-cat-owners-know_us_5791311fe4b00c9876ceb307?utm_hp_ref=cats
I'd love to hear how your cat makes you happy. Is it when he uses the litter box instead of your carpet or cashmere sweater? When she snuggles in your lap? I really enjoy it when Lily brings me a toy or her slippers. And when Sophie begs, in her cat-like way, for me to spread the cozy blanket-throw on the sofa for her to lay on—I have to smile.