Lily is a giving cat. I've talked before about how she brings me her toys. She has a whole collection of tiny stuffed animals—opossum, owl, eagle, bears, hedgehog, moose, cat, turtle, bunnies and so forth. We keep them in a now over-flowing basket in the living room—separate from the grandchildren's toy box. (However, Lily often pilfers stuffed toys and small dolls from the children's toy box.) But the toys don't stay in the baskets as Lily likes to decorate the house with them. She doesn't play with them, she simply chooses a toy and carries it to a spot where she drops it and either lays down with it for a while or walks over it and leaves it there.
She also brings me toys in the morning while I'm working and at night when I'm sleeping.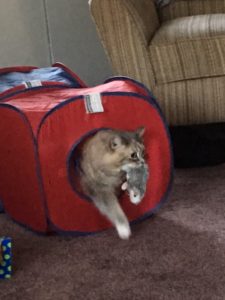 She brings them with a "brrrrrt," as if to say, "Here I come with a gift." What's really cute is when she brings me my slippers. Yes, she actually does that.
But her carryings-around are usually carried out clandestinely. She announces the gift, but she doesn't seem to want to be seen with the toy in her mouth. I've tried all sorts of maneuvers to capture her in the act on camera. And it happens—but rarely.
Last night, for some reason, she treated us to a performance that I could have actually video-taped. First, she brought her baby bunny through her tunnel, looked at us and dropped it. Then she went back to her toy basket and chose her baby opossum, carried it through the tunnel, walked with it toward me. Gave Dennis a strange look as if to say, "Hey, you aren't supposed to be looking at me." Then proceeded to drop the toy at my feet. And I got pictures! Cute, isn't she?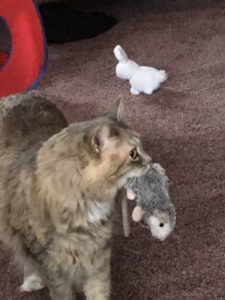 What I haven't figured out is why she does this. Is this a result of her latent hunting instincts? If she were an outside kitty, would she be bringing me birds and lizards?
I don't know, but I'm glad she came to us with this unusual habit because she helped to inspire the Klepto Cat Mysteries. I hope to finish Book 24 in the series today and pass it off to my beta-readers. Then to my proofreader. Yup—we're closing in on, yet, another exciting story—and you can thank sweet Lily for it.