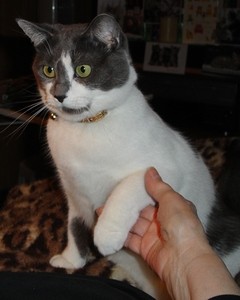 I hope you are taking the time to check out some of the neat sites, interesting resources, updated information, delightful cat stories, etc. that I bring you Monday through Friday.
While conducting research for the blog site this week, I came across a fun quiz. I took it on behalf of Lily. You might want to answer the questions for your cat. In the end, you will find out something about your cat's IQ. I learned that Lily is pretty much average as far as intelligence goes. But then, maybe if there were different questions posed, she could test higher (or lower).
I'm happy with Lily and Sophie as they fill my world with humor and make me smile.
Here's the link to the quiz. Let me know how your cat did. http://www.catchannel.com/cat-iq-test.aspx?utm_source=SilverpopMailing&utm_medium=email&utm_campaign=CC_NL_2016-08-16%20(1)&