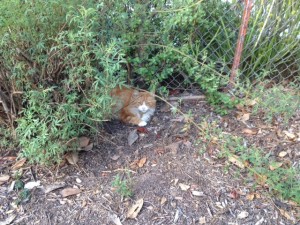 How much do you like cats? Enough to travel great distances in order to meet one, mingle with hundreds, or be entertained by a troupe of them? Monday, I told you about inns across the US that feature one or more cats as greeters. Some hotels allow you to invite one of their cats into your room for added charm and comfort. But if that isn't enough cat-action for you, check out some of these options for traveling cat-people.
At last count, there were 495 cats lolling, preening, and frolicking at the Lanai Cat Sanctuary on the Hawaiian Island of Lanai. Evidently people travel from all over to see the cats, which come in all colors, shapes, sizes, and purrsonalities. They're all spayed/neutered, micro-chipped and they've had a health exam. You can enjoy the cats on site and even adopt one to support or to take home. Why are these cats contained in this fashion—free to roam in the spacious enclosure, yet isolated, nonetheless? It's actually a wonderful place for cats who need homes and it helps to protect the native birds on the island. To learn more, go to http://lanaicatsancturary.org
While, in America, islands of cats seems an odd concept, it's quite common in some countries. In fact, there are over a dozen cat islands in Japan. On Aoshima Island, for example, over 100 cats prowl and are eager to greet tourists. Check out some amazing photos of this place. http://www.theatlantic.com/photo/2015/03/a-visit-to-aoshima-a-cat-island-in-japan/386647/
There are also a lot of cats kept at Ernest Hemmingway's estate home in Key West, Florida—around 50 of them. And they're all, reportedly, descendants of Hemmingway's own Snowball, a 6-toed Maine coon cat. To learn more about this tourist opportunity go to: http://hemingwayhome.com/cats/
In New York, Marty, Squinkles, and Spot are eager to greet guests to the Meow Parlour. There are eight cats total at this—New York's first cat café. They rotate cats there from a
rescue organization known as KittyKind. Be prepared to leave your shoes at the door—they don't want anyone inadvertently stepping on a kitty's tail. The café is not free, however, guests pay $4 for half hour or $30 for the maximum of five hours for the pleasure of hanging out with the cats. And you'll probably need reservations. There's a second cat parlour in New York called Meow Parlour Patisserie and I understand it's free.
There's also a cat cafe in San Diego that comes with a whole lot of rules to protect the cats.
The concept of Cat Cafés seems to have started in Tokyo, where there are more than 100 of them. So if you're traveling in that direction, be sure to have the Cat Café experience.
Want to be entertained by cats? Visit the Moscow Cats Theater in Russia. There are around 200 cats performing all nature of acrobatics, drama, and magic. http://www.kuklachev.ru/eng/about/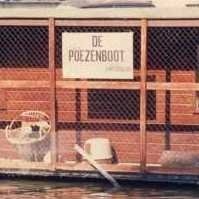 Here's something most of us have never seen—a Cat Boat Sanctuary. It was established for stray and homeless cats in the 1960s in Amsterdam as a way to protect the cats as well as keep them from annoying wildlife and residents. Over time, they've had to buy larger and larger boats and I suspect there are more than one boat today. Check it out here: http://depoezenboot.nl/en