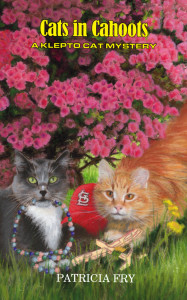 I know, I know, I promised I'd share information and resources for places you can get your cat fix while traveling. And I will. Only there are some exciting things going on with the Klepto Cat Mysteries and I wanted to share that today. Tomorrow, I'll introduce you to cats all over the world who are eager to make your acquaintance.
All Klepto Cat Books are in Print!
So what's going on in the Klepto Cat Mystery Factory? We have now caught up the print books with the ebooks. Yes, it's true. There are not as many of you who read the Klepto Cat Mysteries from the old-fashioned book. Many, many, countless more of you—around 3,000 per month, to be exact—are reading my stories from their Kindle or other reader. Sales for the print book are in the 50- to 100-book range most months. But we sure want to accommodate all readers and I appreciate each and every one of you. I especially love it when you post a review of the books at amazon.com. To those of you who have; Thank you. To those of you who haven't, I invite you to.
There are now 18 Klepto Cat Mysteries published in print and for your Kindle (or other ereader). The last two books in the series were published in print over the weekend. That's A MEOWvelous Witness and Cats in Cahoots. Learn more about these stories and place your orders:
A MEOWvelous Witness: https://www.amazon.com/MEOWvelous-Witness-Klepto-Mystery-Book-ebook/dp/B01FGE25SE/ref=sr_1_3?s=books&ie=UTF8&qid=1471351361&sr=1-3&keywords=klepto+cat+mysteries#nav-subna
Cats in Cahoots Kindle: https://www.amazon.com/Cats-Cahoots-Klepto-Mystery-Book-ebook/dp/B01H9N2A9Y/ref=sr_1_2?s=books&ie=UTF8&qid=1471351244&sr=1-2&keywords=klepto+cat+mysteries#nav-subnav
Cats in Cahoots Print: https://www.amazon.com/Cats-Cahoots-Klepto-Cat-Mystery/dp/0997519045/ref=sr_1_19?s=books&ie=UTF8&qid=1471351288&sr=1-19&keywords=klepto+cat+mysteries
(Sorry, as of this posting, Amazon hasn't put the print and ebook together on one page—soon, I hope.)
Order your Klepto Cat Mystery of choice this week and I'll send you a set of note cards (to US addresses only). Contact me here through "comments" or at my facebook page KleptoCatMysteries or here: PLFry620@yahoo.com