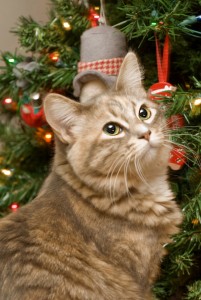 This blog site has become a Lily site. Lily is our torbie kitten who has experienced a few calamities in her short 8-months on earth. I've written about some of them here and I plan to add her stories to my ebook, Catscapades; Tales of Ordinary and Extraordinary Cats. In fact, I'm considering bringing that book out in print form after the first of the year.
We have been printing it out and comb-binding it for those who like to have a book to hold in their hands. But I'd really like to offer this delightful book in a less cumbersome, more attractive form. And we might even feature Lily on the cover, this time.
Suggestions and comments for a reprint are welcome. Either leave a comment here or email me at PLFry620@yahoo.com.
I sincerely hope that all of you cat people out there have enjoyed your cats and kittens this holiday season as they react to the new scents, sounds and sights of the season. Our kitties are having the time of their lives. They believe that we set up the tree and covered it with dangling pretties just for their pleasure. They view the time I spend writing Christmas cards and wrapping gifts as an invitation to play. I'm sure that every handmade item and holiday card has left this house with at least a few strands of Lily, Sophie and/or Max fur tucked in.
I made kickers this year for all of my favorite cats and these toys have been a huge hit! A kicker is a fabric tube tightly filled with stuffing, heavy plastic crinkle paper and, of course, catnip. None of the cats I delivered or mailed these to waited until Christmas to open them. They began immediately warming up to the tissue paper-wrapped gifts. While Sally, in Ohio, simply tried to hatch hers under the tree by sitting on it for hours at a time, most of the cats tore right into the packages.
The two Maine coon cats across the street expressed just the sort of enthusiasm that warms a gift-giver's heart. While the Smurf aggressively attacked, rolled, chewed and kicked her kicker, Isadora carried hers up onto the sofa and lay there with her "arm" around it for a while.
Smokey, my mom's 11-year-old Maine coon cat is way too cool to be seen playing, so he feigned total disinterest in the gift UNTIL we left the room. When I peered in, I caught him leaping, rolling, kicking, frolicking and otherwise being very un-cool and oh so cute. Of course, when he spotted me watching, he dropped the toy, raised his plumed tail and sauntered out of the room.
My sister's American Bobtail cat, Scooter Bob, was not concerned about losing his cool. He went absolutely crazy with the kicker. First he licked it until it was sopping wet and then he hugged it while kicking it and rolling all over the room.
If you enjoy—in fact, crave—a reaction from those on your Christmas gift list, consider giving all of the cats you know something filled with catnip. They will love it and they will demonstrate their appreciation. And they won't return it, re-gift it or toss it out with the trash.