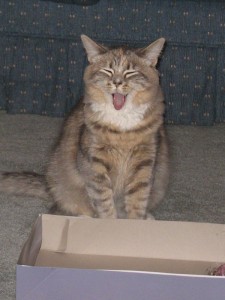 We're almost ready to go to print with the new perfect-bound (real print book) version of Catscapades, True Cat Tales. Some of you may recall that the original subtitle was, "Tales of Ordinary and Extraordinary Cats."
This new edition includes over 40 stories and vignettes featuring over 3 dozen cats and kittens and 46 charming photographs. The stories are amusing, they're touching and they're real. If you like cats, you're going to enjoy this book.
I will be offering a special discount for those who order the book during the weeks it is at the printer. Here's the deal—pay $12.95 (the actual price of the book) and I'll pay the shipping AND send you a FREE gift along with the book as soon as we receive it from the printer. If you'd like to get a jump-start on this offer, send me a check for $12.95 (per book desired), along with your shipping address (one address only). We will deposit checks when we ship the books. (California residents, please include $1.06 tax.)
Send you check to this address:
Matilija Press
PMB 123
323 E. Matilija St., Ste. 110
Ojai, CA 93023
Or call with your credit card information:
805-646-3045
Email me with any questions: PLFry620@yahoo.com
This offer is good only until the book arrives here from the printer—estimated date March 15, 2010.