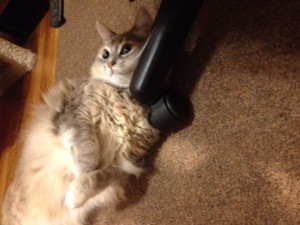 This probably isn't news to most people with indoor cats. In fact, when you see your cats trying to increase their activity, it may even upset you. Sure you want your cat to be healthy, but does he have to test his agility by climbing the drapes, scooting along underneath the sofa tearing at the lining, playing with the belt dangling from your new dress in the closet, leaping up on the kitchen counter to nibble on your freshly-made sandwich, or running around the house with the end of the toilet paper in his mouth? Oh my!
It's been proven that cats who are kept inside live longer. One site I visited said that while outdoor cats life expectancy is four to five years, the indoor cat may live to be twelve to eighteen years old. So there's a good case for the indoor cat, but how can we keep him healthy and trim within the confines of a relatively small area?
If you're keeping up with his shots, of course, you can leash-train him and get him out of Dodge on occasion. Many people take their cats for walks. Rags (the cat star in my Klepto Cat Mysteries) is leash-trained (as much as you can train a cat) and he loves outdoor excursions. You can also build an outdoor area for the cats complete with climbing apparatus.
But there's a lot you can do indoors as well. You might start by setting aside play time for your cats. A wand with a feather attached is a great toy to encourage activity. Here are some other tips: hide treats around the house or in one of those toys that when bonked around will release the treat. A motivated cat will entertain himself and get some exercise while trying to release the treat. Tossing balls or wads of paper will entice some cats to run and play.
Cats are naturally curious. Ours will gravitate toward anything new that's brought into the
house. An empty bag or packing box can make for a fun cat adventure. We have a nylon tunnel that we bring out occasionally. Our cats will spend hours playing in and around that thing. After it's there for a while, the cats tire of it. But each time we bring it out anew, it gets rave reviews and we're entertained by some wild play activity. Likewise, a series of empty boxes will entertain and entice a cat. Cut holes here and there and toss balls in, stack the boxes to create a high-rise apartment complex then dangle toys inside and out. If there's more than one cat, they'll enjoy chasing each other's tail through the maze. You can also create a maze of paper bags. Be sure to cut off any handles so they don't get their heads caught.
Another thing we do around here is to occasionally dig to the bottom of the cats' toy box and bring out old forgotten favorites. Our especially get a kick out of toys that move, jump, talk…
Bring catnip into the equation. Most cats will work hard to get to the catnip in a toy.
Go the extra mile and build a cat walk with a variety of perches and steps along the top of your walls. You know how your cat likes to play King of the Mountain on your tallest dresser top, or climb your clothes to reach the top of your closet…
Need additional ideas? Here's a fun site showing how to play with your cat.
http://cats.about.com/cs/catmanagement101/a/play_with_cat.htm