The reviews are coming in for Klepto Cat Mystery number 14, Meow for the Money. Read the one Michele at Miki's Hope wrote this morning: http://www.mikishope.com/2016/01/book-review-meow-for-money-klepto-cat.html And the reviews for A Picture-Purrfect Christmas are pouring in at Amazon. We're up to 35 this morning. The majority of reviewers are quite taken with the stories, the cats, and the characters.
As Michele wrote in her review, some cats are very smart. They can figure things out, they recognize or become somehow conditioned to the time of day, they learn how to get what they want from their people, and cats develop meaningful and working relationships for themselves. Have you ever noticed, a cat might like another household pet or a neighbor's pet, and not others? They don't behave the same with all other animals. For example, our cats are indoor pets and there are two outdoor cats who travel through our yard occasionally—Rocket and George. Both cats are orange tabbies. Now our cats rather enjoy watching George through the windows and they'll touch noses through the glass with her on occasion. But they go into a rage when they see Rocket anywhere near this house. They despise him.
Within the Fry feline family, six-year-old Lily is the nosey Rosie and the caretaker. If she
hears us scold one of the other cats or laugh at them or simply talk to them, she appears on a dead run, alert and interested in what's going on. She keeps a close eye on 17-year-old Max. When he's on the move in the house, she's on his tail, accompanying him wherever he wanders. When he's having his nails trimmed, getting combed, or being given medicine, she's right there watching. I still haven't figured out if she's being supportive or nosey.
However, she and 11-year-old Sophie have quite a different relationship. They're playmates. Before scurrying off through the house together, up and over furniture, they generally have a standoff—each trying to stare down the other, paw with claws at the ready for attack. After several minutes of the stare-down, one will leap at the other and they grapple for a second before racing off together. Those two crack me up—they have so much silly fun.
The resident cats have special people in their lives. Lily stays close to me. She's my shadow, my bed partner, my lap sitter, unless Dennis is in the kitchen, then he's her favorite—he might drop a piece of cheese or chicken, for heaven's sake, and she doesn't want to miss that highlight of the day. She also loves children who visit.
Sophie is Dennis's cat pure and simple. Oh she'll let me pet her now and then, but Dennis is her person. She's totally enamored with him.
Max, being the most deeply feral of the three, bonded with me early on and, to this day, I'm the only one he trusts. He will allow petting from Dennis on his terms and only briefly and he'll be somewhat cordial to any overnight guest. But he hides from anyone else who steps foot in this house—even those who visit often, our petsitter, for example. Children? Oh my gosh, he's petrified of them.
As for the other cats, he's afraid of Sophie (who's half his size and weight), and he tolerates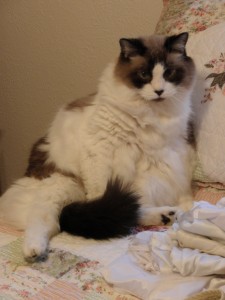 Lily. Otherwise, he's a loner—a maverick—and you might even say, eccentric. I say, he's entitled at his age—we'll celebrate his eighteenth birthday in April—most likely while he's hiding under the bed.