Ragsdale (aka Rags) is the kleptomaniac cat in my Klepto Cat Mystery series. People wonder who he is in real life. Well, he's a little bit Lily (my 6-year-old tabby), because she carries things around in her mouth, constantly redecorating the house. When developing his character, I often bring in traits and antics from other cats I've known. But mainly, he's patterned after my mother's big, lanky grey-and-white cat, Smokey.
Smokey has a big personality. He's full of confidence. He's discerning—he knows who he likes and he shows it. Likewise, for people and animals he doesn't particularly care for. He knows what he wants and how to get it. For example, when Smokey came into my mother's life, she wanted a totally indoor cat—a quiet, calm, maybe even lazy, lap-sitter.
What she got, however, is a big boy who will sometimes sprawl out on her lap and purr,
but who prefers action and activity and the out of doors. There have been several times when my 90-year-old mother has had to chase the cat around the house to retrieve a bird or lizard from his mouth and he loves playing hide-and-seek when it's time to come in on a warm summer's eve.
But she loves him and my readers love Rags. For those of you who haven't read one of the Klepto Cat Mysteries, Rags is an ordinary cat with a few extraordinary habits. He steals things. Sometimes the things he takes are clues to the current mystery. He also knows who he likes and who he doesn't—yes, he's quite sensitive and intuitive, actually. And boy does he have a mind of his own. He's always causing havoc in one way or another.
If you'd like to find out more about this fascinating cat, you can start by reading the first book in the series, Catnapped, or pick any one that sounds interesting to you. The books follow a time-line, but they're also stand-alone books.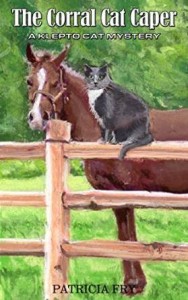 How to pick one…if you like a lot of horse action, you might enjoy The Corral Cat Caper. If you're interested in the lives of colony cats—feral cats—consider The Colony Cat Caper. A Picture-Purrfect Christmas is a wonderful Christmas story which is garnering great reviews. Want to go on a beach vacation? Read The Gallery Cat Caper. Mansion of Meows is fun because it occurs around a mansion—a mansion full of secrets. Are you fascinated by the macabre? Don't miss Pawsitively Sinister. Oh yes, there's something for every taste and every story is full of kitty cat antics.
Learn more about the Klepto Cat Mysteries here: http://www.matilijapress.com/KleptoCatMysteries. and at amazon http://www.amazon.com/s/ref=nb_sb_ss_c_0_14?url=search-alias%3Dstripbooks&field-keywords=klepto+cat+mysteries&sprefix=klepto+cat+mys%2Caps%2C320