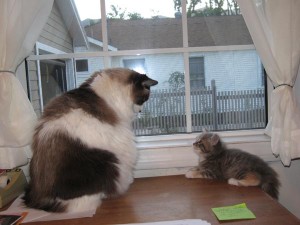 The resident cats don't know it, but they're contributing to my upcoming changes to this blog site. I'm watching their antics, jotting down interesting things I remember about these three cats and others over the years. I'm collecting facts and fiction about cats and devising riddles, jokes, and other challenges. If you enjoy cat photos, you'll get a kick out of some of mine. If you visit often, you know that we always add a photo. Oh yes, and we're gathering prizes that will delight and thrill anyone who respects, adores, admires, rescues, breeds, or even just tolerates cats.
The fun starts Monday—December 28 right here! Don't be late!
Read the blog posted December 22 for details.
If you still haven't taken time to check out the Klepto Cat Mystery series, here's the quick link.