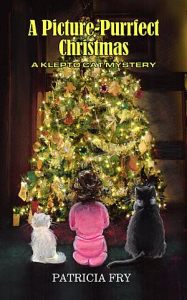 While I've promoted some of my books for holiday giving, I've never actually promoted a Christmas book before—a book featuring a Christmas story with a feel-good sugarplum fairy ending. And I'm having a lot of fun showing A Picture-Purrfect Christmas around, reading the rave reviews, watching the stock on tissues rise as so many readers weep happy tears, and knowing that I've put a smile in the hearts of many this season. Order your autographed copies here: http://www.matilijapress.com/Klepto-Cat-Mysteries
The fact that this book involves cats—in particular, a clever, interesting, unpredictable, flexible klepto cat—makes this book and all of my Klepto Cat Mysteries especially intriguing. In this story, for example, Rags rides a horse! He also has his first ride in a helicopter. His adoration for a special little girl is his driving force and makes this story one of my most unusual and charming.
In the meantime, our resident cats are responding and reacting to the temperature changes. The heater has come on, their little beds have come out, and they are happy kitties. Actually, they're always pretty happy—what do they have to complain about? They're pampered, well-served, their every whim (well almost) accommodated and pretty much on demand. How spoiled are our cats?
We adjust our position, put down the newspaper, etc. when one of them wants some lap time. We break the egg yolk before eating our over-easy egg so Lily can lick yolk off a spoon. We have step-ups where 17-year old Max wants to be and when he doesn't feel like making the climb, we lift him onto the sofa or the desk. We bought a rubber grooming tool so the process is more pleasant for them. They love the massages. Oh yes, and I get up before dawn every morning to feed a starving Lily (who is probably three pounds overweight). They get three meals a day and have two treat times and are allowed to sleep the day away undisturbed if they want. Talk about a dog's life… Our cats are purrfectly happy being cats, thank you.