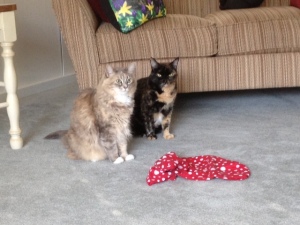 Cats don't always make fast friends like Lily and Sophie shown here in this photo. Sometimes, when a new cat is introduced into a home, there's some hissing, spitting and even fur-flying before everyone settles down for a peaceful life together. I remember there being some tension for a while years ago when I brought Katy Kitty home. She was an adorable three-month old Himalayan. My resident cat, Daisy, was not happy about having a little sister and strongly exerted her power, thus Katy spent the first week of her life under various pieces of furniture afraid to come out.
One night, Katy drummed up the courage to join Daisy and me on the bed. Daisy was not happy. She began to growl and yeowl. Katy yeowled right back. I had a rare headache and all I wanted to do was sleep. So I tried some mind-talk with the two cats.  (You can read more about mind-talk with cats and other fascinating cat stories in my book, Catscapades, True Cat Tales. Order your copy here: http://www.matilijapress.com.)
The following morning when I woke up, the cats were gone. I expected to find Katy under the dresser and Daisy blocking her escape. Instead, I found both cats calmly eating from their kibbles bowl together. And this was the beginning of a lovely friendship between them.
This week, I witnessed something between two cats that could be an episode on "Cats From Hell." The resident cat is mad as h— about a tiny intruder she evidently does not want in her world–no way, no how. She even came across the room to show me how much she objected to my part in this intrusion. I came away with a scratch on my face.
Everyone involved is doing their best to help the resident cat realize the benefits of having a little brother. I wonder how long it will take her to agree. I wonder if mind-talk would help–if she would even listen…