It continues to amuse and delight me to observe how cat-like cats are, yet how different they can be from one another.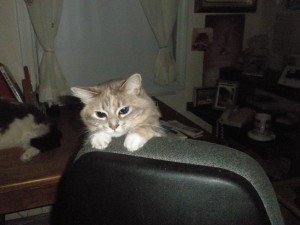 Just this morning, I was scurrying around here in my office getting copies of the new Christmas book ready for shipping and delivery. Our sweet tabby Lily thought the carnival had come to town. She had a grand time exploring packing materials, jumping in and out of boxes, chasing after the paper strips when I'd pull them from the sticky part of the envelopes, and scattering the stack of bookmarks. While Lily took full advantage of an opportunity to play and explore, the other two cats simply got out of the way.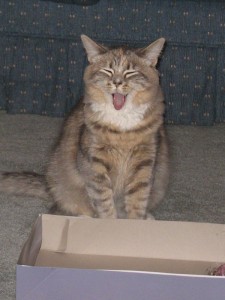 Sophie disappeared into another part of the house and Max slept soundly on my desk, only to open one eye when Lily inadvertently knocked the roll of tape on the floor.
Lily must be the only cat in this household who is excited about our new Christmas book, "A Picture-Purrfect Christmas." The other cats are older and have seen a lot of books created in this office. So I guess there's nothing special about one more.
On the other hand, Lily is interested in most anything that goes on in this house. If you're cooking, she's in the kitchen watching. Laundry day is exciting because clothes items are being tossed into piles—she thinks for her benefit. She especially enjoys helping to change the bed. And even when my year-old great grand-twins came to visit the other day, she couldn't resist being smack dap in the middle of the activity.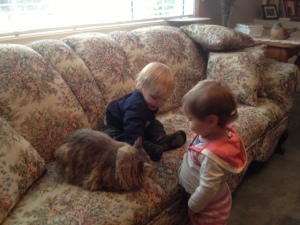 You've heard (and some of you have discovered) that cats are like potato chips, you can't have just one. And maybe the reason is because they come in so many flavors.