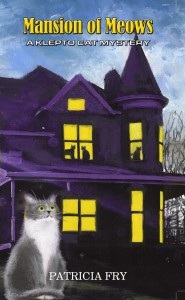 The first rather spooky cozy mystery from the Klepto Cat Mystery series was released this morning. If you're like thousands of cozy mystery readers and you've fallen in love with the antics of Rags, the kleptomaniac cat, you don't want to miss reading Mansion of Meows.
In this story, Rags's documentary is scheduled to debut. The showing takes place at the investor's San Francisco mansion, where the Ivey family and film crew will stay. Of course, the mansion holds secrets and Rags is instrumental in letting the cats out of the bag.
Savannah and Aunt Margaret share another daring adventure and, of course, find themselves in deeper than they expected. This mystery is the most eerie in the Klepto Cat Mystery series.
Order your Kindle copy at amazon.com http://amzn.to/1kAI8I2 or http://www.amazon.com/Mansion-Meows-Klepto-Mystery-Book-ebook/dp/B00TJ9D7T4/ref=sr_1_1?ie=UTF8&qid=1423833494&sr=8-1&keywords=mansion+of+meows