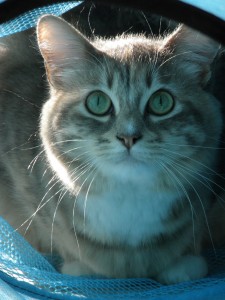 It's here!! Klepto Cat Number Eight—a mystery along the seashore—debuts this month. That's two new Klepto Cat Mysteries for your Kindle in the last two months.
In The Gallery Cat Caper, an old friend of Michael's, who has become a successful artist, invites the entire Ivey family to his beach house. But their vacation is not all fun-and-games. It appears that someone is out to get the artist; and the Iveys and their friends keep stumbling upon clues to the tangled mystery.
Rags is up to his old klepto tricks, and it's a good thing because, not only do his uncat-like antics prove to be amusing, he manages to save two lives.
Join the hilarity and suspense as this mystery unfolds. Enjoy some of your favorite human and animal characters as well as a few new ones, all of them giving this story a light and rich quality.
If you haven't kept up with the Klepto Cat Mysteries, the first one is Catnapped, then came Cat-Eye Witness, Sleight of Paw, Undercover Cat, The Colony Cat Caper, Celebrity Cat Caper, The Corral Cat Caper and the newest one, The Gallery Cat Caper.
All of the books in this series are formatted for Kindle. The first four are also in print. Order your copies today here: http://amzn.to/1kAI8I2
And if you've read some of the books in the series, and liked them, be sure to post a review on the book pages at Amazon.com
In the meantime, as I work on book 9, Mansion of Meows, we've had three sick cats. All of our babies have had different symptoms that required visits to the vet. We have not yet figured out what the common denominator of their maladies is—if there is one. Happily, I can report that they are all doing well. Sophie is still in recovery mode. Max and Lily are healthy. And when the fur kids are well and happy, Mama is happy.