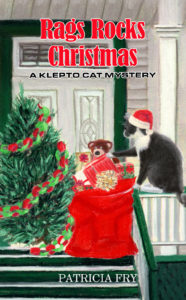 I don't come out with a Christmas story every year, but this year is special. When I sat down to start writing Book 60 in the Klepto Cat Mystery series a lovely story began to emerge. It was so unique and touching that I decided to add it to my small collection of holiday stories. So here it is, NOW available at Amazon.com in print and for your ereader—Rags Rocks Christmas.
Rags helps solve a mystery for a Christmas to remember.
It's Christmastime and the Iveys decide to adopt a hardworking local family that seems to need a lot of help. Everyone jumps on the bandwagon hoping to fill this family with holiday cheer, but only Rags knows the secret that holds the young family hostage in a most alarming way. When the family loses their home the Iveys take them in, will their best-laid holiday plans become lost in the shuffle? It's a wild ride for everyone, but in the end, Rags and the children show the way to the true meaning of Christmas. This story will touch your heartstrings and fill you with holiday spirit
You may also want to read my other Christmas stories.
A Picture-Purrfect Christmas (Book 13)
A Christmas to Purr About (Book 22)
A Very Meowy Christmas (Book 38)
Order any of these four Christmas stories at Amazon.com in print of for your Kindle at Amazon.com
Order autographed print copies here: KleptoCatMysteries.com