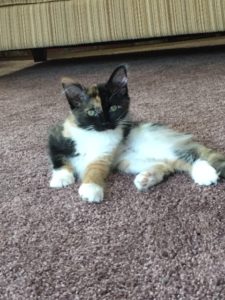 As I mentioned Monday we had cat sitters for a recent ten-day trip. Kathy is a seasoned cat lover. Valerie prefers dogs and people, but was willing to spend time with Sophie and Olivia to help us out.
With Sophie  being formerly feral, and Olivia having come to us in 2020, neither really became very social except with us, and that's just the way they seem to like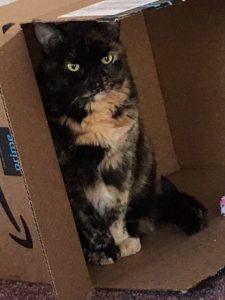 it.
This experience with cat sitters, however, seemed to have changed everyone (and every cat) involved. Sophie, our 17-year-old tortie, surprised us and decided she enjoyed spending time with the nice ladies who came in twice a
day (one in the morning and one in the afternoon). She allowed them to pet her and comb her and she even played a little. She also followed them into the kitchen when they prepared her meal.
It took Olivia longer to be seen and to respond, but she finally did and the caregivers were thrilled. They were even more excited to tell us that Olivia had interacted with them and even allowed petting. We only hope this is a giant step toward Olivia's socialization with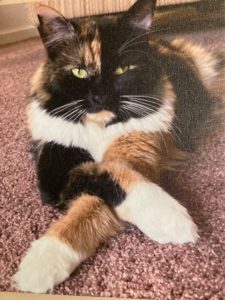 others—that maybe she will be more trusting when our family and friends visit.
Cat sitter-Kathy chuckled and said she's seen pictures of Olivia with her paws crossed on my facebook page, on my book covers, and here in our house. She thought I posed her for these pictures, until she saw Olivia repeatedly lie down and promptly cross her paws.
Valerie seemed to bond with the cats and said she hopes she can come back and visit them sometimes. Well, cats are different from dogs and it's interesting that she enjoyed learning about some of the differences while observing and interacting with our two.
You may balk at the idea of having cat sitters, but I can tell you I think it is a win-win situation. Our cats were well cared for. The visits broke up the cats' day. And this was a great socializing experience for both Sophie and Olivia.