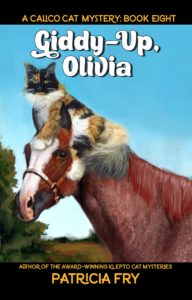 It's my birthday week and what better way to celebrate than to launch a new book. Giddy-Up, Olivia! is Book 8 of the Calico Cat Mystery series, my 64th cozy mystery with cats, and my 108th book total. Here's the description:
Olivia flaunts her inner cowgirl.
In this story, Olivia teams up with an unlikely cohort. Together, they help solve a spooky mystery and surprise everyone when the two of them capture the mastermind behind it all. Olivia keeps busy on a road trip to Texas. She saves a child after a frightening accident, squeals on a pair of thieves, uncovers an awful small town secret, and tries to tame a herd of out-of-control goats. She also helps a young woman keep from making a painful mistake.
Here's what readers are saying:
"These books are always heart-warming."
"The characters are charming, have depth, and are believable, if you can think outside the box."
"A really fantastic storyline with wonderful characters."
"This is a very good series."
"An awesome read!"
Both the kindle and print versions are available at amazon.com