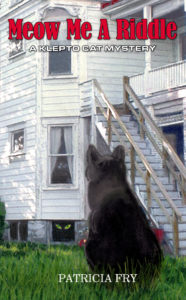 It's true—there's a new Klepto Cat Mystery. This is Book 57 of the Klepto Cat Mysteries. It's the third Klepto Cat Mystery published this year and my 6th book for 2022. (We've published 3 Calico Cat Mysteries this year, too).
This is quite an intriguing story, and I love my title: Meow Me a Riddle. Here's the description
 Rags reveals a ghastly decades-old secret.
This is a story of lost hope and recovery. Rags reveals more than skeletons in the closet of a century-old mansion. He saves human and feline lives that have been interrupted in the most horrifying way. He finds the key to healing a broken family, and he even rescues a nest of birds after a thoughtless act. This story will delight and excite you. You'll gasp, you'll laugh, and you'll marvel at the wonders of the cat.
Here are some of the latest Reader Reviews
"This series is PHENOMENAL!"
"I just love Rags's escapades."
"This author has such a great imagination."
"When a new Klepto Cat Mystery comes out, I put down whatever book I'm reading."
"These are feel-good books."
"These are some really great books."
Order your copy of the print or Kindle book here TODAY! https://www.amazon.com/Meow-MeRiddleKleptoMysteryebook/dp/B0B1CQ2GFW/ref=sr_1_1?crid=2S9GBNTOSX05H&keywords=Meow+me+a+riddle+klepto+cat+mystery&qid=1652701697&sprefix=meow+me+a+riddle+klepto+cat+mystery%2Caps%2C131&sr=8-1