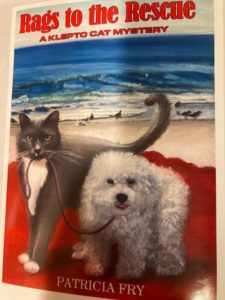 Book 56 of the Klepto Cat Mystery series, "Rags to the Rescue" is available at Amazon.com in both Kindle and Print.
In this story, Rags works his feline magic and demonstrates his prowess.
A fan goes berserk and Rags surprises everyone with his unusual and most timely reaction. He saves a drowning child, alerts rescuers when a cat friend is in serious trouble, identifies a man who's up to no good, returns a treasured pup to his family, and uncovers a spirited secret in the walls of a friend's mansion. This story is a page-turner and a heart-warmer.
Reader Reviews
"I can't put down Rags's mysteries."
"This author has such an imagination. There are always unique problems to be solved."
"I enjoy this series so much."
"I love, love, love Rags and this series."