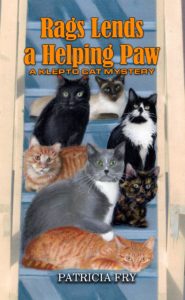 Book 55: Kindle and Print versions now available at Amazon.com. Here's the description:
Rags leads the charge against mayhem and crime.
In this story Rags helps locate and rehabilitate Detective Craig's troubled stepson, but not without some missteps and mishaps. The detective, Savannah, and her psychic friend, Rochelle travel to Arizona to find Chris and try to help him. Along the way Rags takes charge in an attempted assault, he saves Rochelle from a cruel magician's prank, and he rescues vulnerable cats under difficult circumstances. Expect the unexpected in this lively and touching tale.