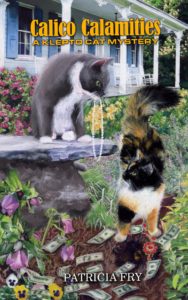 Yesterday we talked about one of the cats that inspired the Klepto Cat Mysteries. While writing that series these past ten years, I've included a lot of new characters along the way—both human and cat. Oh yes, and equine. Some of the characters made cameo appearances and others have remained as integral to the series. One of those was Olivia, the calico cat I introduced in Book 51 of the Klepto Cat Mysteries, Calico Calamities.
As many of you know I patterned the calico in that story after Olivia, a calico I adopted in 2020. I liked the cat character and early in 2021,I launched Olivia's own series, the Calico Cat Mysteries.
I finished my final edit on Book 5 of this series last week, and it's now with the editor.
Folks, I predict that you'll have a new book to read in a matter of weeks.
If you're not familiar with the Calico Cat Mysteries, check them out at Amazon or at https://CalicoCatMysteries.com. So far we have Oh!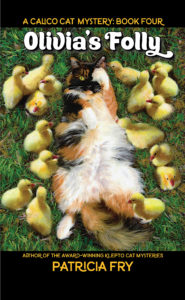 Olivia, Where's Olivia?, Then Came Olivia, and Olivia's Folly. All of these are receiving great reviews and I'm having a wonderful time writing them.
Rags's fans express concern that I will stop writing the Klepto Cat Mysteries now that I've created the Calico Cat Mysteries. I have no plans to do that. I'm writing the series' in tandem. This year I came out with 9 books—four Calico Cat Mysteries and five Klepto Cat Mysteries. I'm not trying to break any records, I just can't not write. It's what I do and what I will do for as long as it brings joy to me and others and for as long as I'm able.