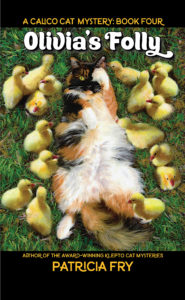 You can now order Book 4 of the Calico Cat Mysteries for your e-reading device. Yes: Olivia's Folly is now available in both print and e-Book at Amazon.com.
As you may recall, in this story, Olivia helps unravel a ghoulish mystery.
Parker takes Olivia, her spunky calico, to visit family at a guest ranch in Colorado. Olivia makes herself quite at home among the critters. She even learns how to ride a horse. But their vacation turns ghastly when dead bodies show up in the most unexpected places, then disappear seemingly without a trace. Olivia is on the job, though, pawing up vital clues that could eventually lead them to the macabre truth. Along the way, Olivia is catnapped in a cruel plot, she rescues vulnerable ducklings, and she teaches a few lessons in cat appreciation.
Here are a few Reader Reviews for previous Calico Cat Mysteries
"I'd give this series 100+ stars. It's fantastic!"
"I'm totally addicted to this new series."
"This is a phenomenal series."