As usual, I have two books in the works. It used to be two Klepto Cat Mysteries—while one was with the beta readers and editor, I'd start the next one. Now I'm publishing two series and I write them in tandem.
Book 53 of the Klepto Cat Mysteries is on deck to be published next. Currently I'm proofing the print version of this book. In the background, waiting for my undivided attention is Book 3 of the Calico Cat Mysteries. I've manage to write over 70 pages of that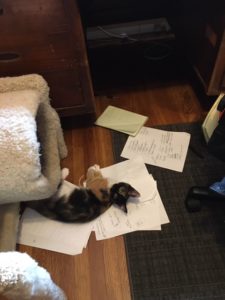 story so far. I predict that book could be ready for readers sometime in October. By then, of course, I'll be creating Book 54 in the Klepto Cat Mysteries. Yeah, that's how I work.
I'm so thankful there's an audience for my books, because I'm having so much fun writing them.
I miss meeting Rags's and Olivia's fans in person though. I had a couple of book signings set up this month, but cancelled because of the surge in the virus in CA. It was probably a good time to cancel as we're back in a heat wave and the signings were to be out of doors. (I wrote this over the weekend—would you believe we're between heat waves at the moment? The heat will return soon.)