We took a little trip recently—to help celebrate a wonderful woman's 100th birthday. Wow!!! She's the first centenarian I've ever known  and how nice that she's also a good friend. We've traveled together, walked many miles together, laughed together, and shared quite a lot. So traveling to be with her as she celebrates this monumental milestone was a must—even though it meant leaving Olivia and Sophie behind.
Oh the anguish while planning for a cat sitter, securing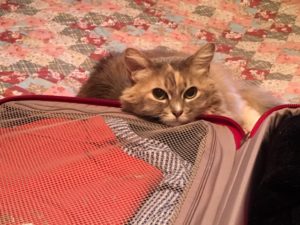 the house so the cats are safe and comfortable while we're gone, creating a list of instructions—each cat is different, you know, and Olivia has never been left for more than 8 hours at a time. Even that is rare.
We're so glad she has Sophie and that Sophie has Olivia. In our experience another cat offers comfort even when they aren't particularly close. Cats develop relationships with other cats and other animals and those relationships seem to have degrees—similar to our own relationships. We like some people better than others. There are people we enjoy talking to, others we might want to travel with or walk with or cook with or just be in their company.
Yes, we did extensive planning and preparation, then we left our fur-babies behind and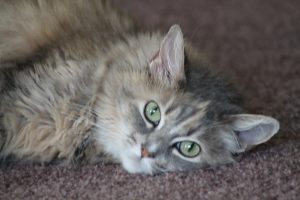 drove away, heart in throat. So how did it go? Evidently beautifully. I was able to get my usual cat sitter and her daughter (both animal people) to take care of our girls and they were marvelously successful. The first day they spent a few hours with the cats and that seemed to give Sophie and Olivia the confidence to trust them and they became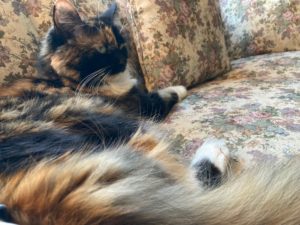 more relaxed and even a little cordial when they came to check on them, feed them, and clean up after them.
That didn't prevent (probably) Olivia from upsetting a large vase of artificial flowers, though. So far that's the only evidence of shenanigans I've found, but boy is Olivia one happy cat to have us home. It's as if she's saying, "Mom, whatever I did to make you go away, I'll never, never ever do that again."
I left to get a few groceries the afternoon we got home and Olivia cried loudly when she realized I was gone. Heart-breaking. But I am sure enjoying the extra attention she's lavishing on me. Yes, I missed her, too. We're both making up for it with lots of cuddling
and snuggling.
I also want to shout out, Happy 17th Birthday, Sophie. You've been such a good cat. We love you and we're so glad you're a healthy and happy girl. Wishing you many more happy and healthy days.