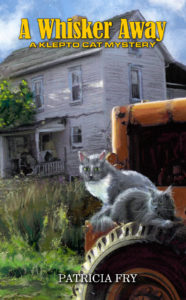 KCM and CCM? That's Klepto Cat Mysteries and Calico Cat Mysteries. Oh yes, there's a lot going on. Book 52 of the Klepto Cat Mysteries, "A Whisker Away," came out last month and it's gleaning all sorts of great reviews. Here are a few comments from readers:
"As always, well-written with humor and excitement."
"This was a great book with a storyline that kept me reading."
"The best book yet!"
You can bet that Book 53 is in the works.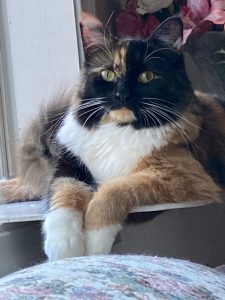 Book 2 of the Calico Cat Mysteries is with the editor. It looks like we might publish before the end of the month. That's our goal.
Meanwhile, I've scheduled two book signings, one at Poppies in Ojai, CA August 21 4-6 pm. Another at Bank of Books in Ventura, CA 1-3. I'm part of a zoom panel focusing on Feline Fiction for a Tails and Tales program at Broward Library system in Florida.
I'm also working with a talented graphic designer on some new publicity photos and signage for book festivals and signings, etc. We got an incredible photo of Olivia in my arms—it's only mediocre of me, but we'll probably use it. It's not easy getting Olivia to cooperate in a photo shoot.
Stay tuned. There will no doubt be more to report and celebrate in coming weeks and months.
Be sure to visit the websites: https://KleptoCatMysteries.com