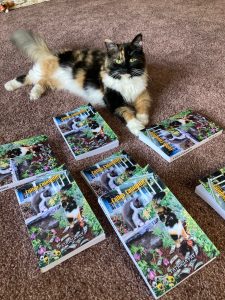 It's an exciting month for us here in the factory as we're about to launch a brand new series featuring Olivia—the calico you've seen so often and read about so often here in this blog. Perhaps you've also seen her on facebook. She has quite an enthusiastic following, especially since she debuted in Book 51 of the Klepto Cat Mystery series with Rags.
The Calico Cat Mysteries features Olivia, a clever, insightful, sassy calico and her person, investigative reporter/writer, Parker Campbell. As I said, you first met Olivia and Parker in Book 51 of the Klepto Cat Mysteries. Olivia has been so well-received in that story as well as on two facebook pages that I've decided to give the pert and spunky calico her own series. If you like cozy mysteries with cats and if you've enjoyed the Klepto Cat Mysteries, you'll adore these fun, enlightening, suspenseful, and enticing stories featuring Olivia in all of her mischievous and exquisite glory.
So what are we doing to prepare and when will the new series debut? We're dotting all of our I's and putting all of our kitty-cats in a row in hopes of a May 20th (or there abouts) launch.