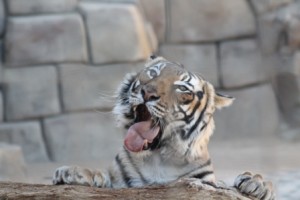 All week, I was in hurry-up and wait mode and sometimes this can make me growl and snarl like this guy we saw at the Cat House (Exotic Cat Sanctuary) in Rosamond, California a few days ago. Isn't he great? I also saw one of my favorite cats—so mysterious and unusual—Pallas' Cat. We didn't get a good shot of him—but will be going out there again and hope to see some of them up-close and personal then. In the meantime, if you'd like to see a beautiful Pallas' cat and her kittens, watch the video here: http://www.youtube.com/watch?v=-3-t8SzTZkM&feature=youtu.be What a treat.
These cats are about the size of a large housecat. They live in Russia and a few zoos and cat sanctuaries throughout the world.
So why was I feeling snarly and growly? I was in wait mode—waiting for my latest Klepto Cat Mystery to be committed to Amazon's Kindle program and for the print version of the first in the series, Catnapped to be available at Amazon in PRINT form.
I'm happy to announce that my wait is partially over. Catnapped is now available in print for those of you who don't use an electronic reader. You can order it now at Amazon.com for $8.06. Check it out here: http://amzn.to/14OCk0W