It's been an unusual year for us all. I've been snug as a bug in a rug most days as I continue in my daily ritual of writing the Klepto Cat Mysteries. I produced 8 books in 2020. That's a record for me and probably for most of the authors I know—not that I was trying to break any records. Up until this time, since 2013, I've averaged 6 books a year. Frankly, as much as I love the process of writing the Klepto Cat Mysteries, I hope, like the rest of you do, that I'm unable to keep up the pace because I'm busy spending time with my family, hanging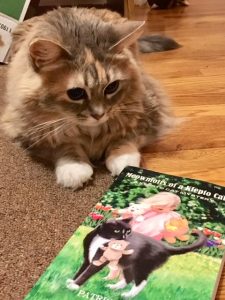 with friends, traveling, going out to eat and SHOPPING!!! Soon.
Meanwhile, though, I'm still here and I'm still writing. Book 51 of the Klepto Cat Mysteries is with the editor this month. Based on the usual timeline, I predict you'll have this book in your hands by Easter. The Kindle book will be available a few weeks after that.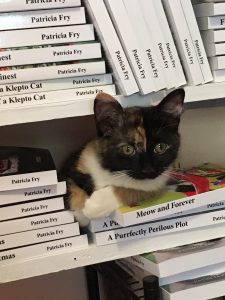 What am I working on now? Book One—yes, Book One of a brand new series. It's an experiment and a challenges and I have to say that so far, things are looking good. I can tell you that this book will feature a beautiful, spunky, and interesting calico named Olivia. Since it is in the works and I may change the title of the series or the book as I progress, I won't share that now. Just know, I'm having fun with this and I think you're going to love it.
The Klepto Cat Mysteries are considered cozy
mysteries. This is quite a popular category for writers and readers these days. My books were already selling like crazy and then the pandemic hit. From the sounds of it, cozy mysteries have become a sort of medicine for those who are isolating and feel isolated over these many months. Former AP journalist and new cozy mystery writer, Tamara Lush says that cozy mysteries are "A pandemic-era balm." She believes that a group of readers are hungrily consuming cozy mysteries and greeting old friends. I know that my fans often say they wish they knew the people in my stories—they'd love to sit down and have tea with them.
Editor Michelle Vega says, cozy mysteries are "Escapist perfection."
Here's the article by Tamara Rush. I think you'll find reference to yourself in there.
https://apnews.com/article/pandemics-neil-gaiman-coronavirus-pandemic-c0fe0a4c5705372f168eab3060a57539