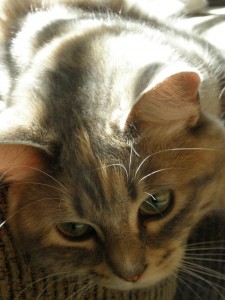 Lily seems not to be impressed, but I'm excited as all get out. My first two cozy mystery novels are doing well as Kindle books. And we'll have two announcements to make with regard to the Klepto Cat Mystery Series within the next few weeks.
Order your copies for your Kindle today. Did you know that you can download the Kindle software for FREE to your iPad or other reading device?
The two books now available at http://www.amazon.com (for only $2.99 each)
Catnapped (Also soon to be in print)
Cat-Eye Witness
Coming soon for Kindle
Sleight of Paw
To be published in the Spring
Undercover Cat
Just so you know, there are no talking cats in these books. Oh they might voice their opinion by using cat-like phrases such as Mew, Meow or Hiss. But boy do they get involved in some interesting situations with the people-characters.