I mention Olivia and use her photos fairly often in my posts and I display her photos on facebook. Yeah, I guess I'm kind of obsessed with her. She's a wonderful addition to our household. But I didn't realize how much so until I got my second COVID vaccine. I'm on a shortlist to have just a little more freedom. With out-of-town family having had their vaccines or having had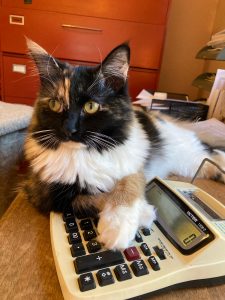 the virus, we've begun talking about the idea of a visit—a real visit with someone we've missed, but then I thought of Olivia. How in the world can I leave her? She's accustomed to having both of us here 24/7 at her beck and call, so to speak. Her meals and treats are dispensed right on time every day, she's free to hunker down in a closet away from us and Sophie or she can hang close. There's always a lap available to curl up in and an eager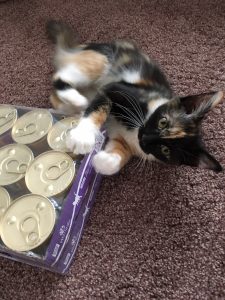 playmate when she wants to play fetch or one of the other games she makes up.
But the thought of leaving her alone—well, with Sophie—is giving me anxiety. Is that my problem or Olivia's. Who will survive the change better? I hope it is Olivia. I know I'll feel like a traitor—that is, if I actually have the courage to leave for a few days. Yes, we have the purrfect cat sitters—my grandson and his wife, who live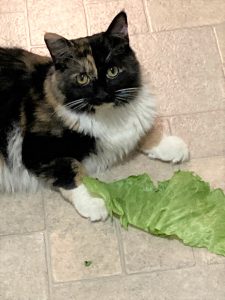 across the street and who also love cats.
On a lighter note, Olivia is over 9.5 months old now and thriving. She weighs 10-13 pounds, depending on which scale we use.  Yes, she's a big girl and she's fluffy and cute and playful and she still makes us smile and laugh out loud.
Olivia has trained us to feed her where she wants to eat. She rejects the idea of having a specific feeding station, although sometimes when I'm looking for her to feed her I find her waiting at the "feeding station"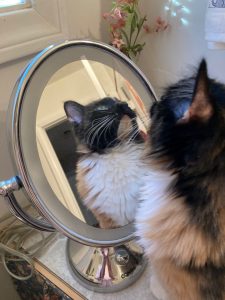 wondering what in the heck I've been doing—walking all over the house calling for her. She never changes up her routine at treat time—oh no. She can turn up her nose at her food and she often does (only to return when we're not looking to eat it). But she loves her treat so much she'll do practically anything to get it, including reach into Dennis's pocket where she knows he's kept a small piece to surprise her with later.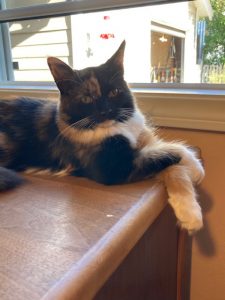 She sleeps more during the day—I figure she's going through a growth spurt. What? She already weighs at least 2 pounds more than the average 9 month old female cat.
She has the most delightful and sometimes frustrating/obstinate personality and she has so many facebook fans that I've decided to create a spinoff series featuring Olivia. My challenge is to come up with things that Olivia can do that Rags hasn't even thought to do yet and that is a huge challenge considering I'm working on Book 51 in the Klepto Cat Mystery series. Rags has done a lot and been through a lot—will I be able to offer some really fresh and interesting stories? It remains to be seen, but I'm—as they say, "on it!"