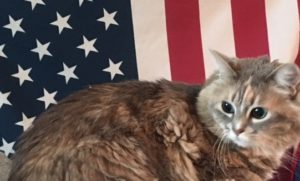 Every state in our union adopts various items and even mammals, birds and reptiles to represent what they're made up of, what they take pride in, and what they offer. Some cities do the same. California's flower, for example, is the California poppy. For Colorado it's the columbine. The mammal representative for California is the California grizzly bear. Alaska's is the moose. South Dakota chose the coyote, and the grey fox is the mammal of Delaware.
But did you know that four states have chosen a state cat? You're probably aware that Maine acknowledges the Maine coon cat. Maryland has adopted the calico. The tabby is the state cat of Massachusetts and the bobcat represents New Hampshire. Florida has chosen several mammals, including the Florida panther. Some states recognize all cats and dogs adopted through their shelters.
Here's an interesting site that lists the various mammals chosen by each state. Check it out—it might give you some fodder for your next social gathering.