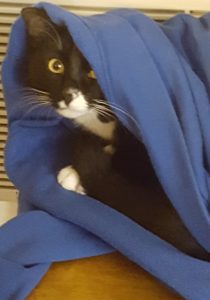 I've been going through my cat photos—boy are there a lot of them. Many are still on the computer and I haven't used them in the blog yet. I spent time this week going through them and they helped me to come up with some blog topics. One of those topics is a favorite of mine—cats under blankets. Don't you love it? What's cozier?
When Max—our rescued snow-shoe-type cat–was little and frightened his safe place was under the bed. Eventually, we got new beds and none were conducive to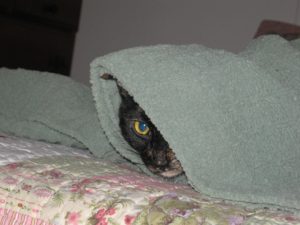 hide under, so when there were workers around or in the house, garbage trucks rumbling by, visitors knocking on the door, Max would hide under the covers in the bed. He taught Lily to do it, too. They felt safe there.
When I'd lay on the couch on a cold day with a blanket, Max would crawl under it with me and Lily would lay on top of him on top of the blanket. How snuggly is that? I loved it.
And what's sweeter than seeing a kitten face peering out from under a cozy blanket? So that's what I'm sharing today. Most of us are experiencing some form of winter. What better time and excuse to cozy down with our cats.