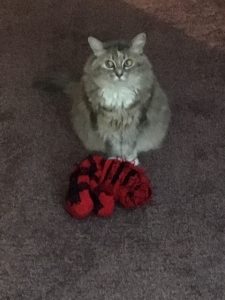 Cats certainly can become obsessed. We've all known cats that are so fixated on something they temporarily block everything else out. We had a cat once who seemed to have a fetish for the scent in women's products—lotions, shampoos, hair spray… If a woman came into our home wearing hand lotion, for example, or a particularly fragrant cologne, he was all over her. He'd rub against our guest's hands or face, maybe lick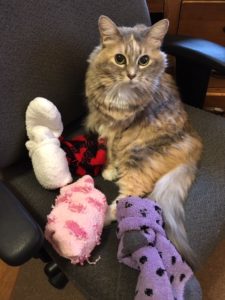 her skin and roll around on her. He could be obnoxious. To him, fragrances were like catnip.
Some cats have a fetish for certain objects. You've heard of cat burglars. They really do exist. I've written about our cat Lily—how she'd bring me her stuffed toys and my cozy socks just about every morning and drop them at my feet. I'm pretty sure that if she were allowed out of doors, she would have been a cat burglar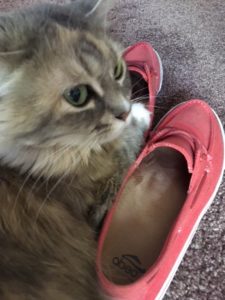 —scouting out interesting things in neighbors' yards and bringing them home.
I want to share the story of a new cat burglar on the block—actually on a block in Pennsylvania. Jordan is a black-and-white cat and has a shoe fetish. His owners say this 6-pound cat used to bring home rodents, snakes, birds, and garbage until he discovered shoes. At last count he'd accumulated over thirty shoes of all types—from flip-flops to high-tops. Frustrated and embarrassed, his owners started a facebook page in hopes of reuniting neighbors with their shoes.
If you'd like to read the story of Jordan and his shoe fetish, here's the link: https://people.com/pets/cat-steals-shoes-owner-made-facebook-group-to-return-shoes/