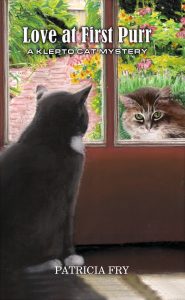 First let me announce that both the print and Kindle versions of  Book 45 of the Klepto Cat Mystery series, "Love at First Purr" are available at Amazon.com. Woo Hoo and a big Meow of celebration!!!
Now to Olivia! Here she is. I first met Olivia through a picture Jeffyne Telson at RESQCATS sent me June 28th. Jeffyne asked in her email if I was interested and I wrote back "YES!!" Little did I know that the 12-day wait while she was vet-checked, given appropriate inoculations and spayed would become a nearly 5-week wait before I could hold her in my arms.
It all started when Olivia walked into a humane trap in
Gardena, CA with her siblings and was taken to RESQCATS in Santa Barbara. A volunteer named her Olivia, and I agree, she is an Olivia.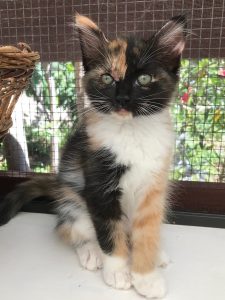 She was supposed to come to us around July 10th, but her caregivers discovered that the little rascals from Gardena had arrived with ringworm and needed stringent treatment for 3 weeks. Jeffyne said Olivia did beautifully through the many baths required In fact she purred most of the time. We cheered her on from Ojai, relishing the videos and photos Jeffyne sent.
We finally met Olivia July 31 already loving her and now we're spending many hours getting to really know each other. Those of you who have cats understand that they're full of surprises no matter their age and boy are we enjoying the journey.