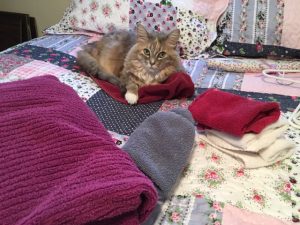 All is not bleak for cats this year. Although we're struggling in ways we never could have predicted, and many pets are being displaced because of it, there are good-news kitty-cat stories being told all over the globe. Are you ready for some happy news?
I adore the story of Brioche and Choukett,
two tuxedo kittens that were discovered with two other siblings in bad condition and struggling. The four kittens were rescued and loved back to health and they began thriving. It was obvious that the two tuxedo kittens shared a special bond. In fact they shared everything. They slept together, played together. If someone held Brioche, Choukett wanted to be held along with her. The other two kittens were adopted, leaving the two tuxedo females behind. Their rescuers knew these two had to stay together and finally a family came along who wanted them both. Don't you love happy endings? Meet these adorable little girls here:
https://www.lovemeow.com/kitten-sisters-stay-together-farm-2646216575.html
Did you see the story about a stray cat who carried her sick kitten into an Istanbul hospital emergency room? Medics examined the kitten and discovered, indeed, she had a problem with her back legs. Mother and kitten were transported to a veterinarian where the kitten received care.
There are several stories of strays bringing their kittens to the kind families who have been feeding them. What a gift for those who were isolating at home, anyway, and getting bored—to find themselves caring for a litter of adorable kittens.
Here are pictures of a cat so happy to be at the beach, he can't stop smiling. https://www.msn.com/en-us/lifestyle/lifestyle-buzz/cat-goes-to-the-beach-for-the-first-time-and-can-t-stop-smiling-about-it/ar-BB119UZ8
As if that isn't enough, here's a site with even more cat stories that will make you laugh out loud. https://www.dognmeows.com/funny-overheard-cat-stories/