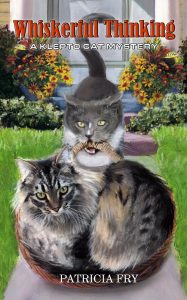 Book 43, "Whiskerful Thinking" is selling quite well. People are loving it, as I'd hoped. For those of you who haven't read it yet, this is the story:
Rags claws his way out of some sticky situations: A family-bonding camping trip soon turns frightful when Rags is accused of wrongdoing, then he's taken under unusual circumstances. Was this to punish him or Savannah? In this story, the wily klepto cat also rescues a cat friend from certain death, helps recover a missing pooch, and happens across a very special cat who has lost her way. Amid the flurry of action and activity, little did Rags know that his cushy lifestyle was in serious jeopardy when an eccentric character comes forward to claim ownership of him. Even Savannah's good friend Rochelle, the psychic, believes the perpetrator is pure of heart.
Here's what readers are saying:
"You'll love this story. It keeps you turning the pages."
"This is a great adventure with Rags."
"It kept me on the edge of my seat. I can't wait for the next book."
Side note: the Maine coon cat in the basket lives next door to me. I couldn't resist using her in one of my stories.
Speaking of the next book, I'm happy to announce that. "Paws for Trouble" (Book 44)  is finished and the editor is with it now—crossing all of my t's and dotting my i's. Artist, Bernadette Kazmarski, is working her magic on the cover.
This story will take you into the extended family dynamics as they celebrate a wedding and a small reunion together at the Iveys' home. But the discord—oh my—and the coincidental mishaps—or are they?  And Rags is in the middle of it all.
So how am I filling my days between books? I'm busily working on Book 45 and this one has a surprise cameo appearance that I think will delight you, tickle your funny bone, and most definitely tug at your heart strings.
Look for Book 44 around early to mid June.